As an artist, I primarily express myself through painting and drawing. But through my continuous development of myself as an artist, I have had to dive deep into other forms of expressions in my artistic research process. This has led to various forms of art projects.
Artistic intervention of a building in Oslo, Norway: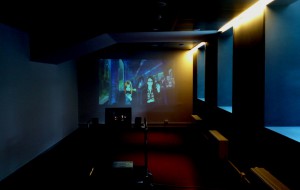 "Are you receiving this message?" is an Audio-visual work and was my contribution to an artistic intervention which I was involved in under the leadership of curator Kristin Bergaust. My artwork was projected onto one of the walls of the Cafe Dramas premises. "Are you receiving this message?" is an artwork composed and animated on 58 layers, that consists of photography, drawing, digital drawing, video, text and audio. All items made by me.  «Are you Receiving this message?» reflects on how the new technology affects and change how we communicate with each other and subject us to unpleasant exposure.
Audio-visual works, duration 3 minutes.
The speech bubbles are in Norwegian.
TO ENGLISH SPEAKERS, HERE'S THE TRANSLATION:
– «What's up with the dude behind us? He's staring at us! »
– «LOL, WTF»
– «I know right! OMG»
– «Wait, is he filming us? »
– «Awkward! What are we gonna do? »
– «I dunno, act natural? »
– «ROFL, sure! »
– «LMAO, we're just gonna chill, then? »
– «Yeah »
Video/ Multimedia Art
My media art videos are composed of various elements such as video, drawing, photography, sound, text and performance, and explore various aspects of identity, intimacy and distance.
In my artistic research I have reflected on our technological age, and our behavioural change through our visual culture and our high consumption of images. I found that the change was most evident in the way we communicate with each other. I've also pondered the phenomenological aspect of our society's technological means of communication, as these become a sensuous extension of the body, which we perceive and experience other people through.
My artistic alter ego; «Psykonauten» (the Psychonaut), often occurs in my audiovisual-artworks. My artistic definition of him is one that explores the unconscious mind in man. He tries constantly to understand ways that people communicate in, with more or less success.
«Psychonaut» definition: a psychonaut «a sailor of the soul» is one who study and explore consciousness (including the unconscious) and altered states of consciousness; it rests on the realization that to study consciousness is to transform it.
«The Psychonauts tentative travel in the communication realm»
"The Psychonauts tentative travel in the communication realm". Media art video/Audio-visual work, duration 10 minutes.
This art video is an interpretation of my Psychonaut's journey and his examination of various communication attempts. This interpretation was part of my thesis on different communication interstices and of my art-based research.
«Screen Flicker» 
«Screen Flicker» An artistic interpretation of screen addiction, which indicates how we humans, through the new technological possibilities, crave constant news updates and leaves us in a detached and fragmented state. Audio-visual work, duration 1 minute.
«The perforated I»
Silent Communication or Communication without sound
«The Psychonauts persistent attempts to contact» (Duration 4 minutes) This media art video was also a part of my master thesis on various communication interstice. This artpiece performed simultaneously with «The Psychonaut's communication journey» and was in active dialogue with its counterpart.
At the exhibition the audience could join in front of a mirror. Only these codes was provided during the projection of the video:
1 = waving hello, 2 = Dance, 3 = Take symbolic wave of joy, 4 = Applaud
https://youtu.be/Fn7vn5fawTU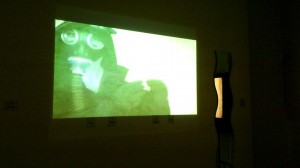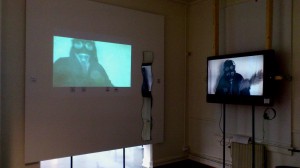 Artistic research
This Media Art video is a part of a larger arts-based research project. Techniques: Video, drawing, photography and performance elements. Duration 2 minutes.
This Media Art video is part of a larger art-based research project. Techniques: Video, drawing, photography and performance elements. Duration 2 minutes.
Mixed Media/ Graphics
Alternative Reality II» is an example of a mixed media technique where I use my camera-based artwork as a foundation, and then expand the artwork by painting a new motif on top of it, with acrylic paint.  This prosess makes it a unique one of a kind work of art.
Another mixedmedia technique I use is where I use my camera-based artwork to create a fast medium slow, through my digital adaptations using drawing and coloring similar to my painting process. This technique is a fusion of my own photography, drawing, painting and new media. In this particular artistic expression, I combine photographs I have taken with digitally drawn elements, as well as other media such as watercolors or other paintings I have made in advance. Through this process, the mixed media is gradually transformed into a new artistic graphic expression, digitally. These transformations make the artwork unique.
Urban Nature:
Organic Flow and Botanical Entities:
The artwork will be printed as high-quality graphics for fine art, that lasts for generations. All my artworks are signed and numbered, and printed into exclusive edition. The artwork are orginals not copies of other works. Shippingtime may vary, depending on the capacity of the printing bureau.
Variants of commissions:
These other mixed media techniques are based on the fact that I also create classic graphics in techniques such as woodcuts, lino, cold needle and mezzotint. In this way I draw on the old techniques in the technical possibilities of the new media.