Hanne Væringsaasen
Visual Artist (MA) based in Oslo, Norway
Artist statement:
My main media is acrylic painting on canvas, as well as drawing and graphics.
Keywords that form my source of inspiration: sensation, interaction, longing, reflection, kinship, takeover and invasion.
My visual language lies between the figurative and the abstract, on the border of the surreal. As an artist, I am frequently perceived as a colorist with a profound message. I usually create art that speaks to the dual nature of modern man, where city life merges with nature, and brings out the hidden emotional landscapes. With my bold use of color in combination with an emotional shift in perspectives, I try to tap into our unconscious dreams, and further seek beauty in the unexpected and unconventional in search of a more open mind. For that reason, my artworks are often categorized as colorful, extensive, playful, surprising and profound.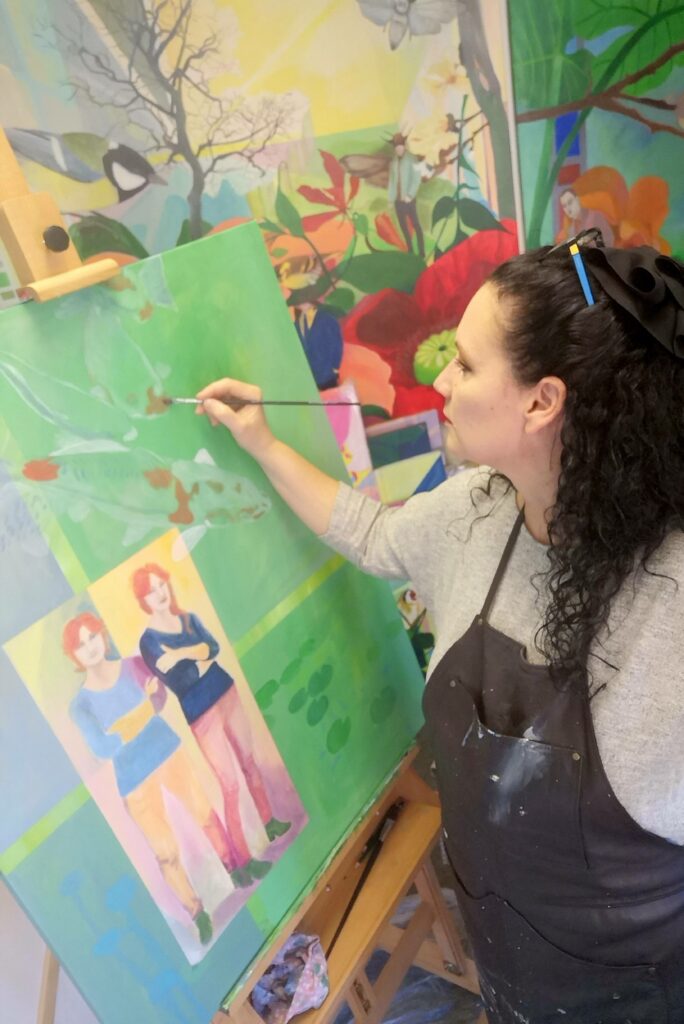 As a visual artist, placed in a western cultural perspective, art is for me a necessity of life. Art clarifies the world around us, it enlarges and opens our senses and allows us insights. Based on this philosophy, I have always been interested in the human mind and its symbolic location in both inner and outer landscapes. Perhaps particularly in relation to urban man's fragmented relationship with nature, and how we perceive the world from different perspectives. From this point of view I often attribute a rich inner life to animals and birds that I encounter. One could argue that I have a slightly surreal relationship with them, since I see them as little people walking around, eating, arguing, laughing and just hanging out in the city just like us. As an extension of this you will also find a study of unbalanced power and identity, or territorial conflict in my work.
The diversity of my artistic expression is partly influenced by 1) my own upbringing with family in both Oslo and Lofoten/ Narvik, where I have Lule Sami ancestry, and 2) me living next to the Botanical Garden in Oslo for a large part of my life. As a result, allowing me a close study of colors, shapes and textures of nature, in an otherwise grey urban everyday life.
For more information about my art career and participation in exhibitions, see CV