Coming soon: an updated gallery of my artwork on canvas
………………………………………………………………………………………………………………………………..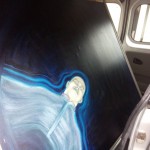 It's always nice to get feedback from satisfied customers. A while ago I received a update from a customer who bought a painting; «Vokteren» («The Guardian») back in the early nineties. He sent me a photo of the painting on the move, with his family, to a new house and a new wall. The artwork was still cherished. Especially nice to hear since the size of the painting itself can be a challenge with its 1.5 meters x 2 meters. Thanks to the family Risan for this update.