Artist statement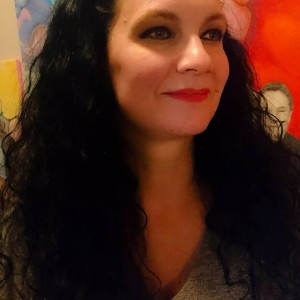 Hanne Væringsaasen is a Norwegian visual artist, based in Oslo. Her art and visual language seek to unify dissimilarities like the figurative and the abstract, drawing inspiration from different kinds of visual communication. Furthermore, she is fascinated with the human mind and the influence that nature has upon people, combined with an emotional displacement of proportions in her artworks as well as a bold use of vibrant colors in her artistic expression.
She was born in Oslo, but she has her roots beyond the Arctic Circle. Her family comes from Lofoten and Narvik in the north of Norway, including Lule Sami ancestry. This familiarity with both urban metropolitan areas and nature has been important factors in her artwork. Another strong artistic influence is drawn from the fact that she has lived close to The Botanical Garden in Oslo most of her adult life. Although she uses different tools to express herself, her artistic narratives are told in a consistent way.
Art has been her passion since childhood and she started taking it seriously in the 1990s. She has continuously developed herself through various art educations through her artistic life. After finishing her master's degree in 2014, her artistic career has taken off. Her artwork is included in the collection of the Royal Family in Norway.
Hanne Væringsaasen has been taking part in a consistent stream of group exhibitions both in Norway, Sweden, the UK and the United States, Switzerland, the United Arab Emirates and Japan. This includes a group show in the Queen Sonja Art Stable at the Royal Palace in Oslo, together with the elite of the artistic community. She has an ongoing collaboration with Art Gallery Nobel in Oslo. In Norway she has also had solo exhibitions in various galleries and venues. She has also had art commissions for Trondheim Municipality in Norway, as well as having sold artworks to several companies. She has traveled extensively to expand her artistic point of view. In 2017 she was awarded an artist residency in Svalbard. In 2019, she has been granted an AiR (Artist in Residence) operated by EWAL at Bedford University Campus in Luton, at the University of Bedfordshire, in the UK. With an exhibition in EWAEE Art Exhibition at Posk Gallery in King St, in London. Furthermore she has participated in various art projects which includes a contribution to Yoko Ono's installation ARISING at the Reykjavik Art Museum in Iceland (2016-2017), a curated Artistic intervention of building PP32 in Oslo 2013, and the Artbox Project (juried group exhibition) in March 2018 at Gallery Stricoff Fine Art in New York. Currently she has an art portfolio with Graphic Encounter Fine Art LLC in the United States. Three of her artworks were published in the spring edition of Nature inspired Anthologies (US). An article about her bachelor thesis was published in Aesthetic Forum (N) and pictures of her artworks were chosen to illustrate the front and inside cover of the magazine (Estetisk Forum 2012).
Hanne Væringsaasen has high hopes for the future of her career. For the next years, she hopes to be able to take part in art exhibits, art residencies and international art fairs and to travel while exhibiting her art.